" Hi Alan, I have been nominated for a global big wave riding award in the past two years.
As a result of your sports motivation sessions, I have just recently been invited to compete on the APT (association of professional tows surfers) at an event in Chile."
Sports Motivation with Belfast Hypnotherapy Centre
Sportspeople, highly motivated, will undoubtedly give a better performance than a lesser motivated player. Even if their skill level is equal!.
Fast Track Hypnosis programme has helped thousands of people. Ranging from amateurs to famous World Champions and has been used to motivate them in their chosen sport.
Sportsmen or women must be at the peak of physical condition.
They need to be at the top of their game. Many hours are dedicated to training, BUT, it's pointless if the mind is not also in shape.
Obstacles can divert an athlete or sports person from reaching their particular target:
Feeling of being watched or stared at - this is particularly profound in Golfers!
The fear of losing.
Making a fool of oneself at the event.
Fast Track Hypnosis is a tried and tested motivational tool
This system is used successfully in the business arena and the sporting one!. Therefore, Motivation is the key to success.
Furthermore, golfers have applied Hypnosis for sports motivation for many years. It helps with both individual and team sports in may areas.
Ranging from football to rugby, rowing, clay pigeon shooting, boxing to surfing!. This list is endless!.
Hypnosis is now becoming part of a sportsman's career.
Mental blockages in performance can be detrimental to the end result, and Fast Track Hypnosis to overcome them. As a result, it aids in developing and strengthening vital competitive skills.
Using this technique correctly, it leaves the sportsperson free to achieve outstanding results - time and time again.
Both professional and amateur sportspeople use Hypnosis for sports motivation as an integral part of pre-match or training preparation.
Indeed, Sports psychologists even use many Hypnosis techniques in their sports motivation programmes, only they call it something completely different!.

The Fast Track Hypnosis programme improves your focus.
Fast Track Hypnosis, will help you to develop the skills and attitudes necessary to keep you playing at the top of your game.
Firstly, you will learn about visualisation and suggestive techniques. After learning them, they can be applied to any competitive challenge. As a consequence, it enables you to imagine yourself perfecting  A* swings or running the smoothest and quickest mile.
Your recall will also improve, and you will start to use it as an aid.  In addition, your past achievements become a motivational tool for you to use.
During the Hypnosis session, you have time to review and consider all of this as well as any previous mistakes, and then corrected before the next training session!
Using Fast Track Hypnosis, it calms you down, and during the session, you are asked to visualise yourself as a success in your sport.
This, in turn, opens the gates to success and all of the positive things that it can bring to your life.
The session will provide you with a motivational tool in your given sport, and only one session is required.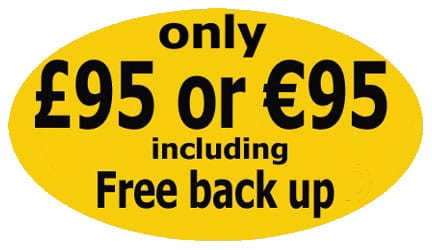 However, if you have deeper confidence issues, one's which are attacking your game, then up to four sessions could be necessary.
One, or four sessions, Fast Track Hypnosis dramatically speeds up the process. The number of sessions required is entirely dependent upon you, your background and the results you want.
As well as the session, CDs or downloads are also provided to reinforce the ongoing results as they progress.
Finally, clients are taught self-hypnosis. This is so they can give positive suggestions to their own subconscious mind without the use of CD's or downloads.
Fees £85.00 or 85.00 euros per Session.
Client Testimonials
After the sessions we did, the effects have been tremendous. It has made an unbelievable difference to my golf. Plus, I am able to concentrate totally on my matches, having lost the "nerves" that plagued me. The effect has been to relax me in other situations. The only regret is I hadn't done this a lot sooner. Thank you
At first, the mile and a half which I was required to run in under fourteen minutes as part of Armed forces selection seemed impossible. Since leaving school, and school sport, I had gained 2 stone and a mental block about fitness . I passed the selection and start training in October. Many thanks, J.